Shell RIDE SR-3B Electric Bicycle - An In-depth Look
---
The Shell RIDE SR-3B is Shell RIDE's most affordable e-bike. Designed by the Shell RIDE Design Team, the SR-3B, with its classic and sleek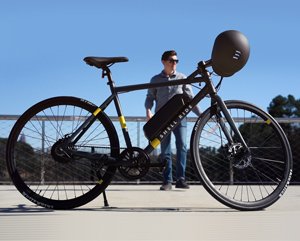 design, keeps the environment as a priority. E-bikes are becoming more and more available, yet there are so many to choose from. How do you know which one is right for you? And what about budget? Lowering emissions and carbon footprints is a priority for many of us, so you can rest easy that the SR-3B e-bike will help meet that goal. 
The SR-3B features dual disc brakes, pedal assist, throttle on-demand, and a solid design that will remain classic through the ages.
Removable Battery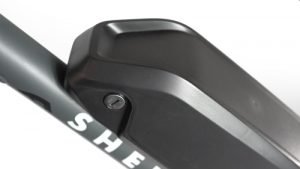 With a 36V 7.8Ah battery and range up to 25 miles* per full charge, the handy removable locking battery is compact and easily stored at your office, home, or anywhere you might find yourself frequenting. With the opportunity to buy more than one, you can store the backup anywhere you need, making this e-bike ideal for commuting. This feature helps with peace of mind in case you find yourself out and about longer than anticipated for that last minute business meeting or meet up with friends.
Lightweight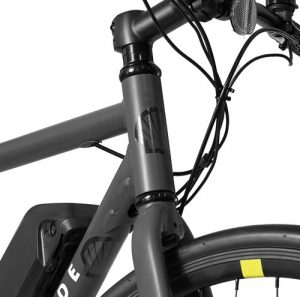 Let's face it, most e-bikes are heavy. The SR-3B keeps the weight to a minimum with its lightweight aluminum frame and single speed drive train. The frame features classic geometry that provides comfortable handling experience for a ride that's balanced and responsive. This electric bike was made for the road with commuting in mind. The simple single speed drive train works perfectly when combined with pedal assist, allowing you to get to your destination in no time. Pedal assist is an operating mode on the SR-3B, where once it is activated, the motor kicks in while you are pedaling, giving the rider the opportunity to reach up to 25 mph with minimal effort. The 250W hub motor delivers smooth power when you need it. The SR-3B is the perfect bike for navigating your way through town, traffic, and all types of terrain, due to its modern sized 27.5" tires and lightweight frame.
Throttle Mode (no pedaling)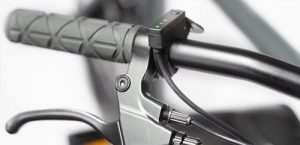 Throttle mode provides instant power from the rear hub motor that can propel the rider up to 17 mph* without peddling. Using the throttle only is a unique experience that allows you to enjoy the ride in a way you might never have felt on a traditional bicycle. 
Electric Energy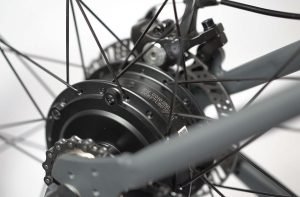 We can't stress this enough, but the fact is, the world's energy system is changing, and we here at Shell RIDE continue to invest in lower-carbon micro mobility technology. The Shell RIDE SR-3B is an affordable e-bike that's fun and reliable personal transportation for all of life's short journeys.