Shell RIDE SR-5S Electric Scooter - An In-depth Look
---
Together We RIDE
The Shell RIDE SR-5S e-scooter is a fun, reliable, and low-emission personal vehicle for all of life's short journeys. We can't talk environmentally friendly without mentioning electric mobility, and the SR-5S delivers! Designed by the Shell RIDE Design Team, the SR-5S keeps the environment as a priority while providing feature rich vehicle with attention to detail.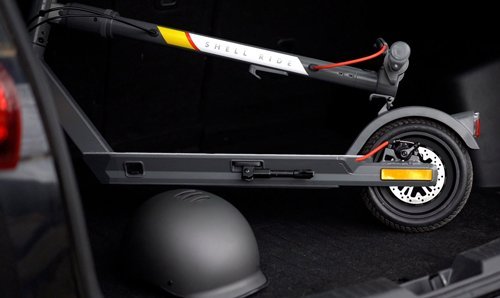 With a high powered 350 Watt motor (500 Watt Torque) producing speeds up to 15.5 MPH and dual-braking functionality, the SR-5S can get you there fast, while stopping on a dime. Rivaled only by more expensive e-bikes and e-scooters, the compact SR-5S is one of the most portable modes of powered personal transport on the market. With its unique and extremely functional fold & locking feature, the scooter easily fits in the smallest of automobile trunks with a folded dimension of 43 x 18.5 inches and weight of merely 30 pounds.
– Photograph of the SR-5S with Thousands Heritage Series Helmet – Shop Thousand Helmets 

Technology & Maintenance
Producing power to the pavement for years to come, the SR-5S features a high capacity 36 V / 7.8 Ah lithium ion battery with LG cells that reach full charge in as little as 5 hours. Fast charge time combined with a maximum range of 18 miles makes the SR-5S the perfect companion for short commutes to work, quick trips to the store or long exploring journeys. As with most electric mobility products, silent operation is a huge plus. The Shell RIDE Design Team integrated an innovative hub motor eliminating the need for a heavy noisy chain which delivers smooth torque over the power curve.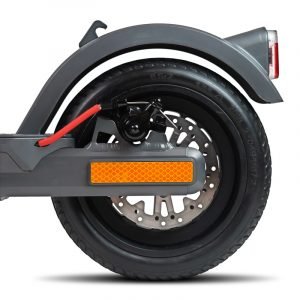 The SR-5S is eco-friendly and virtually maintenance free. The advanced hybrid 8.5" semi-pneumatic tires insure a smooth ride even in the roughest of conditions with no need for an air pump. No more worrying about correct tire pressure and flat tires while enjoying your RIDE.
When it comes to responsive stopping power, the Shell RIDE Team did not take any shortcuts. Exhibiting both an electronic front and rear disc brake, the SR-5S exhibits confidence in braking with a gentle two finger squeeze of the levers, ensuring your hands never leave the handlebars, your foot doesn't leave the deck thus creating a stable platform during braking.
Comfort, Construction & Style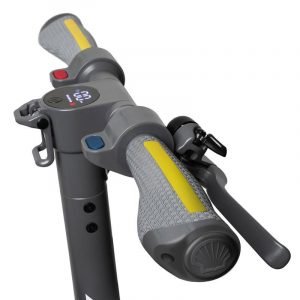 With its solid (flex free) aluminum frame, low center of gravity and rubber padded foot plate, the SR-5S is the epitome of comfort and solid build quality on every level. The soft custom ergonomic grips effectively correct the rider's hand positioning,  preventing any wrist pain or numbness for those longer rides, while the textured foot plate ensures foot traction even in wet conditions. Yes, we did say wet conditions. Put on your poncho because the SR-5S is water resistant for those less than ideal downpours.
In terms of looks, it doesn't get any better. Featuring a flat dark gray corrosion resistant finish and subtle Shell branded accents, the SR-5S exhibits a modern yet timeless style that will look amazing for years to come.
Digital Dash & Shell Ride App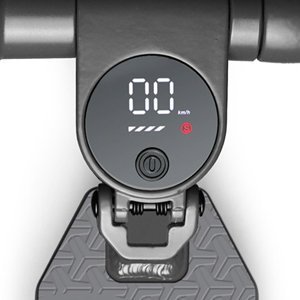 The clear, easy to read SR-5S digital dash features speed, ride mode, & battery level, ensuring you are informed so you're never left stranded. The scooter features an exciting sport for the speed enthusiast or ECO ride mode for those longer trips where limiting battery consumption is key. For added safety, the SR-5S includes an integrated high intensity LED headlamp to light your path forward while the bright LED tail light lets others know when you are stopping.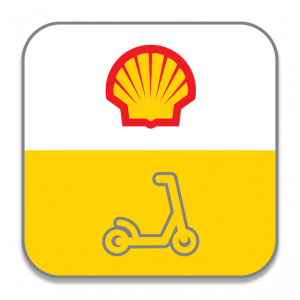 The Shell RIDE App will be available on both Google Play and in the Apple App store and will feature a seamless Bluetooth connection with real time monitoring. You will now have the ability to see all the vehicle information on an easy to read app based dashboard. The app features an innovative built-in locking feature for when the scooter is left unattended, and with a simple tap, you are now able to access the scooter's history tab for access to the SR-5S odometer and trip counter.
The SR-5S is now available on Amazon.com
Gallery