In the world of electric mobility, safety is key, and speaking into electric scooters specifically, safety measures have come a long way over the last several years. In this article we would like to shed some light into the industry as a whole and go over some of the technological advances that have proven to make these popular modes of transportation safer than ever.
First off, are electric scooters actually safe in general? Yes, they are. But like driving any motorized vehicle, e scooters take practice which builds confidence. Confidence leads to safer driving. Electric scooter accidents can happen, and do happen at times. In most cases, these accidents happen because of human error. Some models are safer than others, and in some cases, the scooter itself could have done a better job at keeping riders safe when errors are made. As the electric scooter industry continues to grow, manufacturers are starting to hone in on this topic and are taking huge step in the right direction. According to 
PR Newswire, "The compact e-scooter market size accounted for about US$ 626.8 Million in 2022 and is anticipated to reach US$ 806.3 by 2032". 
From commuting, shopping, getting to school, or just having a fun ride around the block, it is obvious that e scooters are not going anywhere anytime soon. More focus on safety has to be the next step.
Common things to look for in your next electric scooter purchase: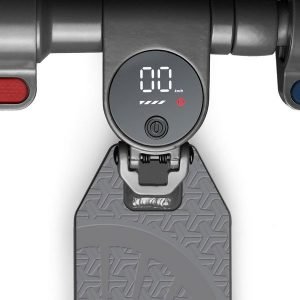 Build quality – 
This one seems obvious, but can easily be overlooked as budget plays a huge role here. With prices ranging from a couple hundred to well over a thousand dollars, we can easily see that not all scooters are created equal. Not to mention, we don't exactly have showrooms where shoppers can test drive e scooters. Most are purchased online with little knowledge of materials used, much less the construction process. We say focus on the frame first. Steel or aluminum scooter frames are the most common and offer the rigid yet balanced feel that gives confidence, which then in turn, equals safety. Plastic is a common and necessary material that is used on all electric scooters, but when used as the main construction for say a frame, handlebar, or steering post, we would urge you to keep shopping. Save the plastic for the fenders.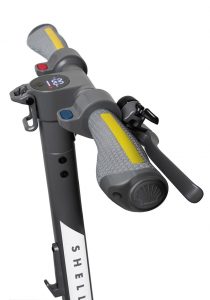 Grip (Foot pad and handle grips) – 
Rubber is king. Downpours can happen when we least expect them. A durable, yet grippy foot pad is a must for any rider and can help riders stay firmly planted on the scooter when mother nature has a change of plans. When looking for grips, choose something that fits your hands and offers plenty of comfort and grip. We like ergonomic grips at Shell RIDE, but that's a personal preference.
Battery Placement – Believe it or not, this is a huge one. Many electric scooters these days have batteries on the steering post which can give riders a very unbalanced feeling, even when riding in a straight line. Removable or not, scooters with batteries installed under the foot plate offer the greatest balance. The low center of gravity inspires confidence when cornering and helps riders stay balanced on uneven pavement or gravel.
Lights – Lights on electric scooters (both front and rear) are a must these days. Many models advertise lights and may have a small light on the front but only a reflector on the rear. Working front lights and rear brake lights are imperative in order to safely see and be seen. Don't purchase a scooter without them.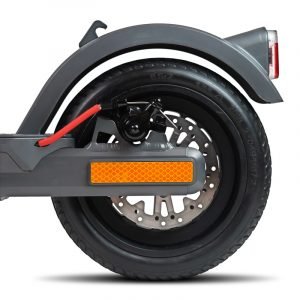 Brakes – 
Many of us have unfortunately experienced brake issues and know how scary they can be. Make sure your electric scooter of choice has brakes on the front and rear. Trusting in your electric scooter's ability to stop is crucial. In most scooters you will see two types of brakes: electronic motor or mechanical disk. The
Shell RIDE SR-5S
is equipped with both. Electronic brakes work by cutting off power to the motor creating resistance. Disc brakes are what you would see on most modern bicycles. Disk brakes use a brake cable to activate the caliper which slows the scooter down. Both systems have been around for a long time and are considered very safe options for e scooters.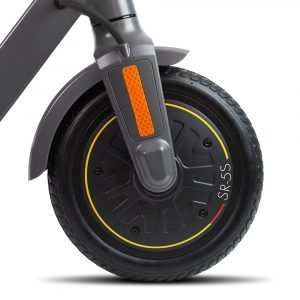 Tires – 
Pneumatic tires (air-filled) vs Solid tires (airless) vs Semi-pneumatic tires (non-pressurized air with a sturdier exterior). Pneumatic tires offer a plush ride but require more maintenance. Keeping an eye on tire pressure for pneumatic tires is critical for safety. Pneumatic tires are more prone to punctures, which can leave riders stranded, or worse, they may lead to an accident. Solid tires require no maintenance but can sometimes offer a rough or bumpy ride with less traction. Like solid tires, semi-pneumatic tires, like the tires featured on the
SR-5S
, require zero maintenance but tend to have a little more give for better traction, which gives riders the best of both worlds.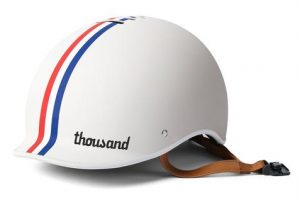 Protection – 
Get a helmet and some pads. In addition to a decent helmet and pads, reflective clothing is always a good idea when riding around traffic, or even the neighborhood, when the sun goes down.
The list could go on, but this is a great place to start. As we mentioned earlier, most electric scooter accidents happen due to user error. Once purchasing your new scooter, take it slow, make sure your first few trips are local, away from automobiles and street traffic. Practice helps tremendously and gives you the confidence you need to ride safe and have fun.
Check out the latest SR-5S Review on Gear Diary
"Affordable, yet it looks, feels, and rides like a premium scooter" Check out the latest SR-5S Review on Gear Diary